BEAUTIFU©kingLIFE
Beware: This blog is unfiltered, as the truth, which you may find hard to believe, can set you free.
Greetings, please allow me to introduce myself. My birth name is Gina. Some call me Poopee, some call me GiGi, some call me Chenoa, some call me Grannyd, some call me Gina Maria and my Mentees call me Ms. G. You may call me crazy for naming my blog BEAUTIFU©kingLIFE!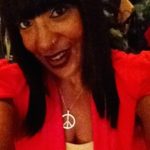 Any hoot, people who know me also know I've experienced a beautiful fu©king life one filled with wonderful joy and one filled with heartbreaking disappointment. Extremes! Both Heaven and Hell yeah! I'm still here standing and writing strong! As you journey with me, some of the $#!t I will share with you will be encouraging, some will break your heart, some will make you laugh so hard you may just have to change your panties, some might piss you off, some might bring discomfort and or a state of consciousness. Anyhow, I'll let you be the judge of your own emotional and spiritual well-being. Also, I promise not to swear, with the exception of introducing this blog. I invite you to follow me for purposes of learning how the glass is always half full even when it may appear to be empty, and of course a little humor in between.